Woodblock dyeing Masters, Tetsuo & Yasuie Koyama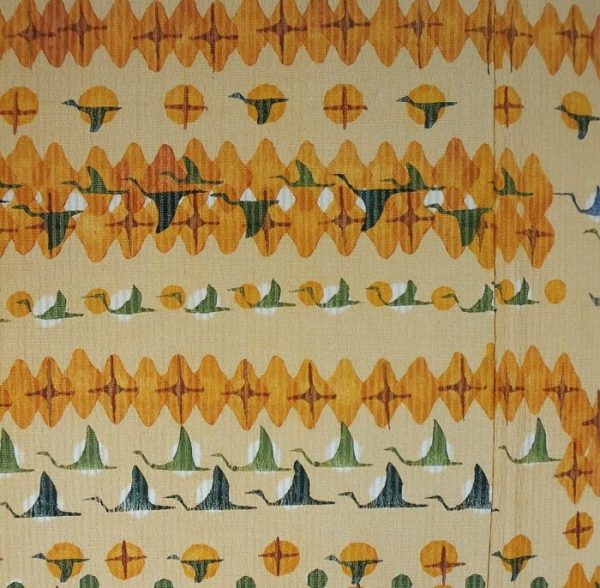 Master Tetsuo Koyama has been working with woodblock print dyeing for more than 60 years; now 81 years old he tirelessly creates new pieces and has a show twice every year.
Tetsuo's father, Yasuie Koyama, was originally a painter, but he started to work as a kimono fabric-making artisan to sustain his family who lost their entire fortune when the Great Kanto Earthquake destroyed Tokyo in 1923. Yasuie's kimonos became popular among geishas, the most chic and fashionable people at that time, and he ran a big kimono fabric-making studio in Tokyo. During WWII Yasuie lost his house and studio building, but he again managed to support his family and employees by producing scarves from the fabric used for parachutes and selling them.
In the 1950's Yasuie was moved by the beauty of an ancient woodblock print, "ban-e". He tried to modernize the ancient fabric printing method to create kimono fabric in his own unique style. In Japan, visual expressions on kimono fabrics are often taken as an equivalent of paintings; kimono fabrics with their beautiful colours and conceptual shapes evoke exciting feelings in viewers in the same way fine paintings do. Kimono fabric-making artists have been passionate about creating the most beautiful and new abstract imageries on fabric and have developed techniques that interpret their visions. Yasuie developed his form of woodblock print dyeing and was bestowed with the title: "Holder of Important Intangible Cultural Property in Japanese Dyeing Art".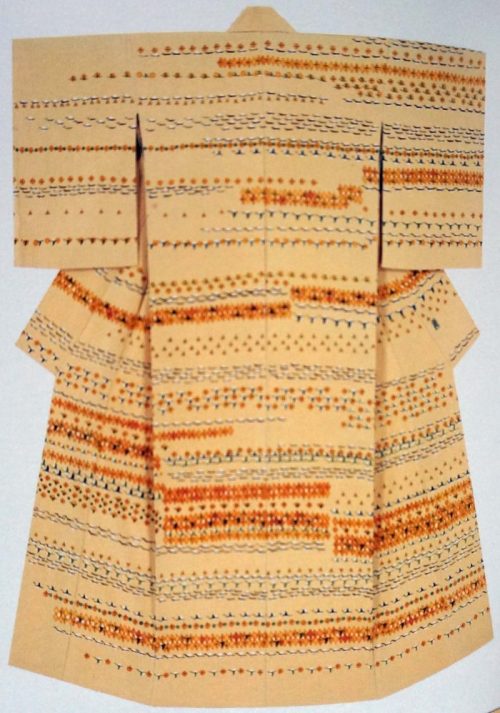 Tetsuo was born as the first born son of Yasuie in 1933. He learned hand-drawing yuzen dyeing method from his father in the dyeing studio from the time he was little. In 1950's, inspired by his father, Tetsuo also started to create woodblock print dyeing. He developed the woodblock print dyeing technique further and has created his own kimono pieces for more than 50 years. Tetsuo says that one of the characteristics of woodblock print dyeing is the depth of the expression made with each small woodblock hammered down one by one; stamps provide unique texture and created a stereoscopic effect on the flat surface of a fabric.
In 1957 Tetsuo graduated from Tama Art University, where he learned Katazome (Japanese stencil dyeing) from Keisuke Serizawa*. Tetsuo started to teach design and dyeing techniques at art schools. Since at least the Edo period, Japanese dyeing methods have been taught mainly in an apprenticeship system in the closed houses or guild of artisan masters.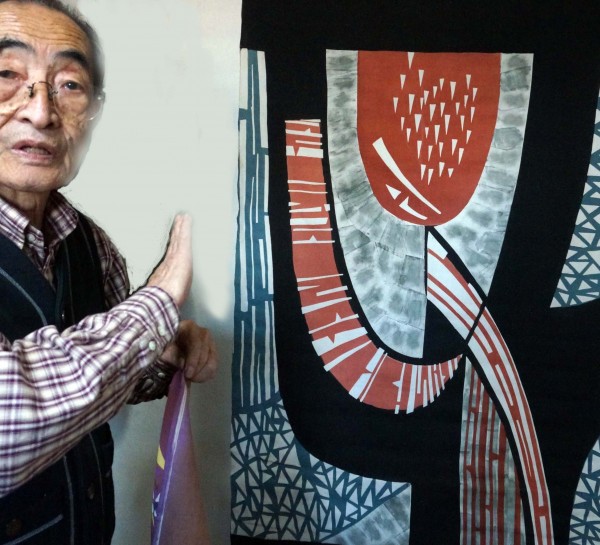 Tetsuo believes that the traditional methods must be introduced to the outside world as well so he supported the open teaching of Japanese dyeing methods; he asked for cooperation from individual dyeing houses, collected data and developed an information package for students who learn outside of dyeing art houses. His actions contributed to an increase in the number of students who study traditional dyeing art in art school and work independently outside of the apprenticeship system. Today, he continues to educate many young artists, encouraging them to be original and to express themselves creatively, while honoring traditional methods.
*Keisuke Serizawa is a Japanese textile designer, designated as a Living National Treasure in Katazome art
One response to "Woodblock dyeing Masters, Tetsuo & Yasuie Koyama"