I made a short sleeved jacket with a scarf
I made a short sleeved jacket with a hand-woven scarf.
♦ Below is the illustration of  the red jacket (photo above).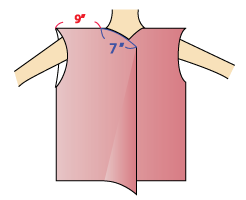 ♦ Below is its pattern (this is a symmetrical pattern).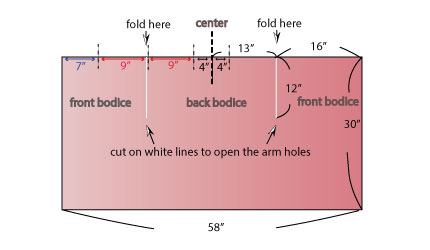 I used the 30″ x 58″ rectangular fabric piece.
I marked the white lines with a chalk and cut them to open the arm holes.
I folded each side of the fabric along the white line, and stitched together the 9-inch shoulder lines of the front and back bodice.
I treated the cut ends around the arm holes with bias tape.
<Size of this jacket>
If you would like to make a longer/extra large jacket, you may use a longer scarf and use the pattern below.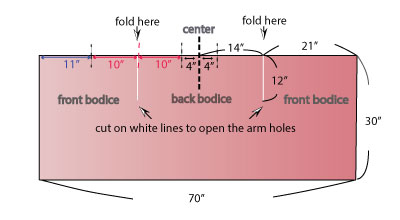 I made this purple jacket using a 30″ X 70″ scarf.
If you like to make the sleeves a bit longer you just need two more pieces of rectangular fabrics.  I made a fleece jacket (the photo below) and put sleeves (5″ x 24″) on it.  The sleeves get 5 inches longer.