About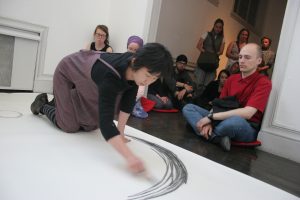 I am a Japanese multidisciplinary artist who lives in Cowichan Valley on Vancouver Island, BC, Canada. I was born and raised in Nagoya, Japan. I moved to Cowichan Valley in 2012 with my husband, two daughters and two dogs. This was a great life-changing move and I am still very excited about it.
In1998, I started to make performance art and since then, I have performed solo and collaborative work in Japan, the US, Canada, Singapore and Finland. After obtaining my MFA in performance art at the School of the Art Institute of Chicago (SAIC) in 2000, I designed and taught undergraduate-level courses in SAIC (2002-2003). On Vancouver Island, I'm always looking for fellow artists who are interested in making a performance art show with me in the Cowichan Valley – if you think you are the person I am looking for, please contact me now!
In my home studio in the Valley, I teach Japanese silk painting and woodblock print dyeing. These are techniques developed in Japan to decorate kimono fabrics. I learned those dyeing method in Japan and use them to make my own textiles.
As a Japanese artist living in North America, I am keen to coordinate international art projects. I curated exhibitions involving artists from Canada, the US, and Asia for the Ota Artist in Residence programs in Tokyo (2013-2014), as well as a Japanese woodblock print master on Vancouver Island (2014 and 2017). As the art director at the Art and Culture Committee of Ota ward of Tokyo (2004-2008), I produced various community-based art events and classes.
I conducted a therapeutic art studio in a psychiatric hospital's rehabilitation center (2004-2012, Tokyo), and ran a private practice (1996-1997 plus, 2004-2007, Tokyo) as a licensed clinical psychologist in Japan. I obtained my MA in Clinical Psychology at Chukyo University (1994, Nagoya, Japan).
I currently lead an art project, "Self-expression art series" at a local therapeutic facility (Providence Farm) in the Cowichan Valley. This project aims to support people with special challenges for their creation and presentation of their own self-portraits.
Terms of Use
Unless otherwise noted, you may use the site content only for your personal, non-commercial purposes.  All contents of sewyuzen.com are protected by copyright, trademark or other intellectual property rights of Yuko Yamamoto or third parties.  You may not republish the contents on this site without the permission of Yuko Yamamoto.