Japanese woodblock print dyeing master will come and teach on Vancouver Island in September 2017

Tetsuo Koyama, who visited the Cowichan Valley, Vancouver Island, BC three years ago will be back in September 2017 to teach advanced workshops. Tetsuo will focus on instructing abstract/semi-abstract expressions. Please do not miss these rare workshops as you make your own unique textile piece. Click on the links below to view details of each workshop:
– Four-day woodblock print dyeing in Colwood
– Two-day silk painting in Qualicum Beach
– Three-day woodblock print dyeing in Duncan*
– Three-day silk painting in Duncan*
*Workshops in Duncan have a waiting list.
Please contact: yuko@sewyuzen.com
In Japan, visual expressions on fabrics are often taken as an equivalent of fine abstract paintings. Their beautiful colours and conceptual shapes evoke exciting feelings in viewers. Since those fabrics were kimonos for kings and dignitaries, the images on fabrics tend to be ambiguous so they flatter human faces and bodies. Koyama is one of the Japanese kimono fabric making Masters and is known for his unique semi-abstract styles evolved from the oldest fabric dyeing art in Japan. In 2014, Koyama held his first international solo show in Cowichan Valley where his work was appreciated by a local audience. As Judy Brayden, the president of Cowichan Valley Arts Council, says, "Although Master Koyama's kimonos strictly follow traditional Japanese technique, the imageries on the fabrics are timeless…truly universal".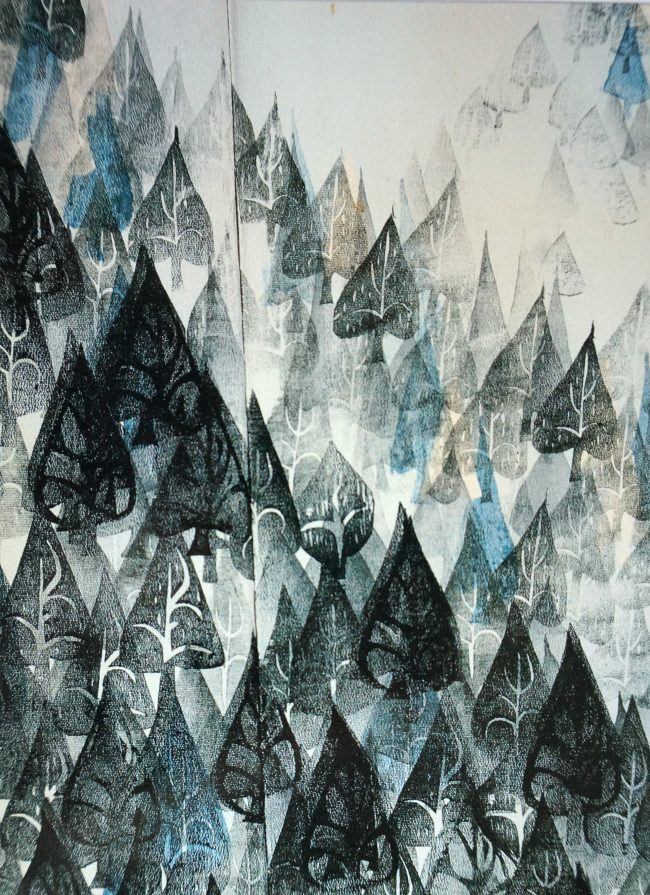 In these workshops, participants will create a 15″ x 20″ fabric piece with their own designs while being introduced to the usage of traditional materials and tools deprived from natural resources, such as flowers, seaweed, grain, trees, weeds, fruits and so on. Many people who experienced making the woodblock print dyeing say that its creation processes are not easy but soothing. Beverly Thompson, a print making artist who has a beautiful studio in Victoria, experienced this method and says," I love this art because it is creative and also meditative." Master Koyama and his teaching assistant, Yuko Yamamoto, his former student who lives on Vancouver Island, welcome both experienced artists and beginners and will assist each of them individually throughout the processes.
In 2014, Koyama taught an intensive five-day workshop in the Cowichan Valley. One of the participants, Wendy Robison, created a series of haiku referring to her five-day experiences; the five-day workshop and Wendy's haikus are introduced in a documentary film, "The Master's Hands", created by film artist, Phill Ives.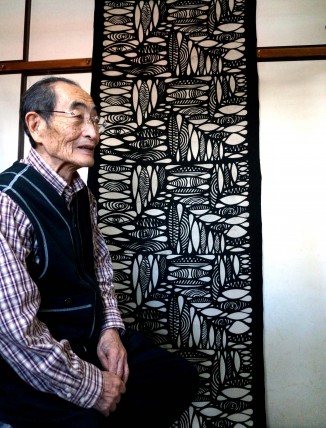 Tetsuo Koyama is an artist in Japanese woodblock print and hand-drawing yuzen dyeing. Living in his birth place of Japan, Tetsuo, now 84, continues to create and present new works, relentlessly seeking the universal beauty of his dyeing arts. He obtained a BA from Tama Art University in 1957; there he studied design under Keisuke Serizawa, one of the most important Japanese artists of the 20th century. He also was trained dyeing arts by his father on whom was bestowed the title: "Holder of Intangible Cultural Property". Tetsuo has taught a lot of professional dyeing artists and fabric designers in Tokyo.
6 responses to "Japanese woodblock print dyeing master will come and teach on Vancouver Island in September 2017"