Yuzen dyeing 2 – Can Canada be my home?
"Can Canada be my home? " I made a yuzen dyeing piece (the image below) to answer this deep question. My yuzen piece was exhibited in the group show "Why I Love Canada II" in June 2013.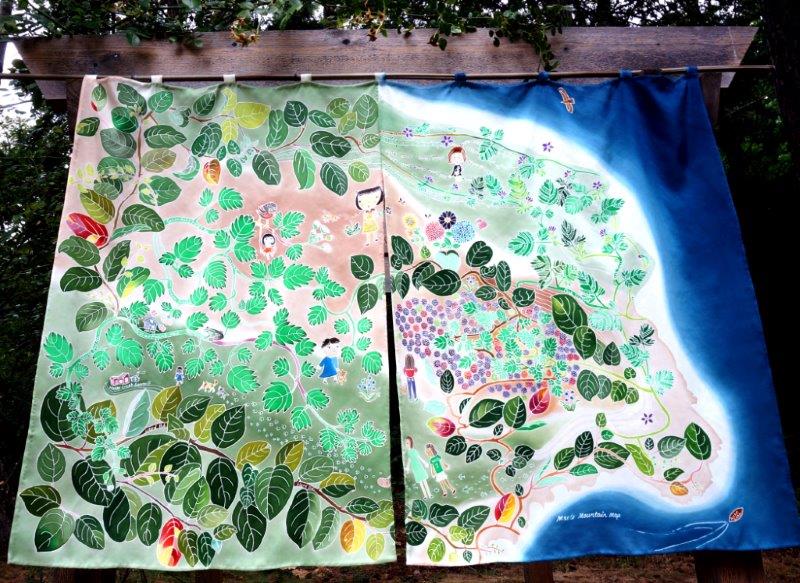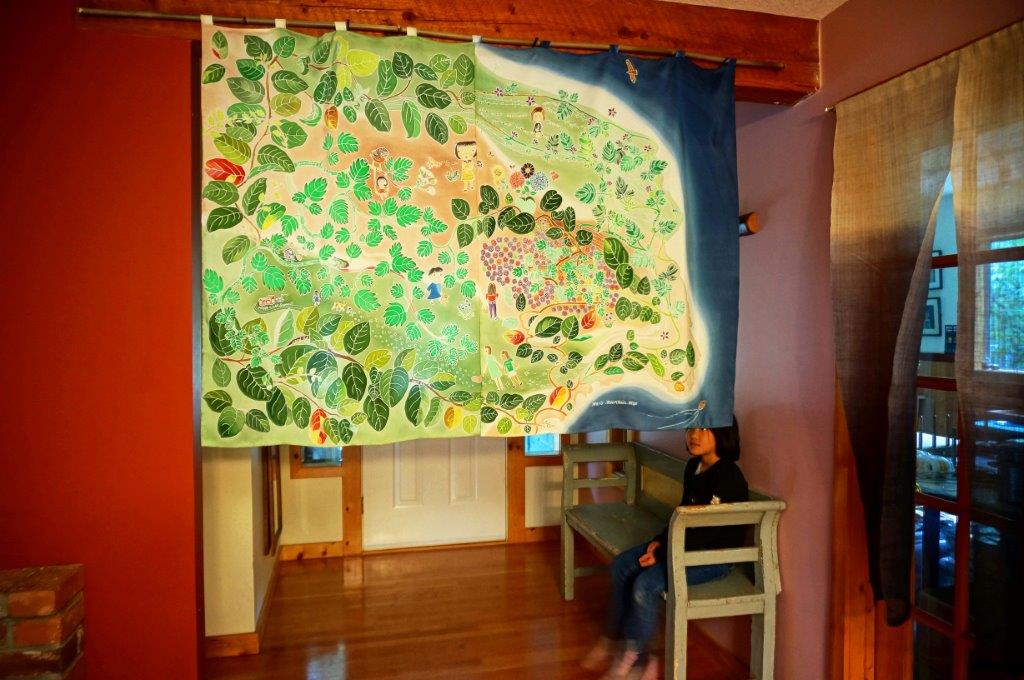 (Maple Mountain Map, 2013)
—————————————————————————————————————————————————————————-
"Can Canada be my home?"
We decided to immigrate to Canada in 2006.  It took five years to receive permanent residence status.  We moved onto Vancouver Island in 2012.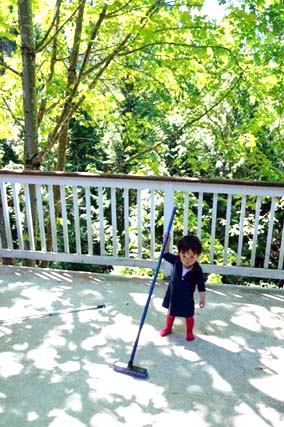 I fell in love with North American life styles while I lived in Chicago for five years.  I wanted to live in North America again, and moved into a little town on Vancouver Island, BC, Canada, with my husband, two children and two dogs.  
My children and the dogs absolutely enjoyed running around in the Maple Mountain and playing with their new friends.  I  was pleased and relieved.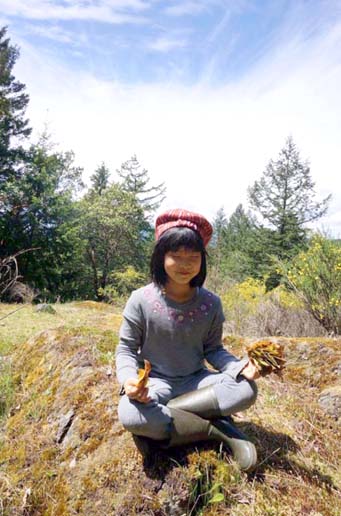 I was relieved, then asked myself, "Is Canada my home?" "… (I couldn't answer)."  
When I was in Chicago I was a students and didn't have children yet. I could spend time only for myself and could be deeply absorbed in art creation. But this time I immigrated to a new country for good with two children. I'm responsible for many things to support our family life. Oh, my good! How I can take root in Canadian soil? How I can make Canada my home?  
I decided to make a map to visualize my new life in this new place. I traced an actual map around my house transformed the contours of roads into salmon berry vine and Salal leaves. I imagined they set   their roots deep into the ground. I became enamored of this activity and it took three months to draw my final design.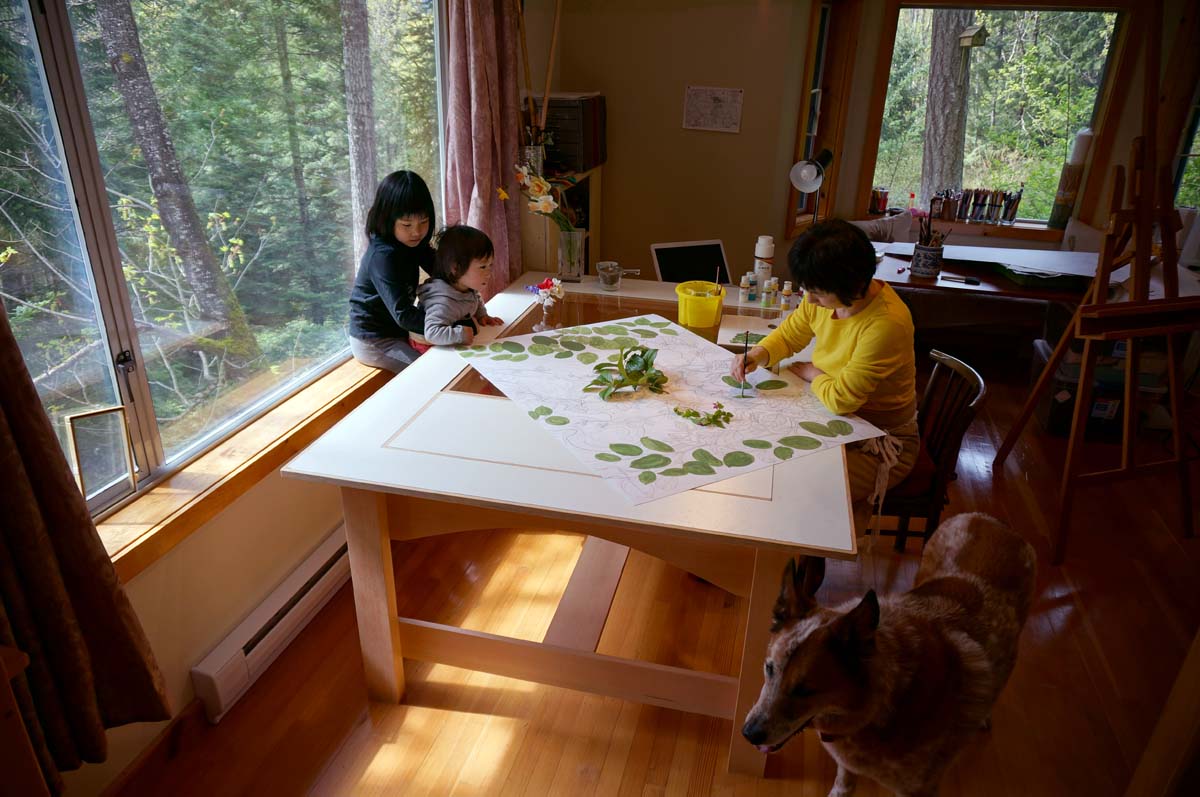 (Yuzen dyeing process 1→ sketching) ↑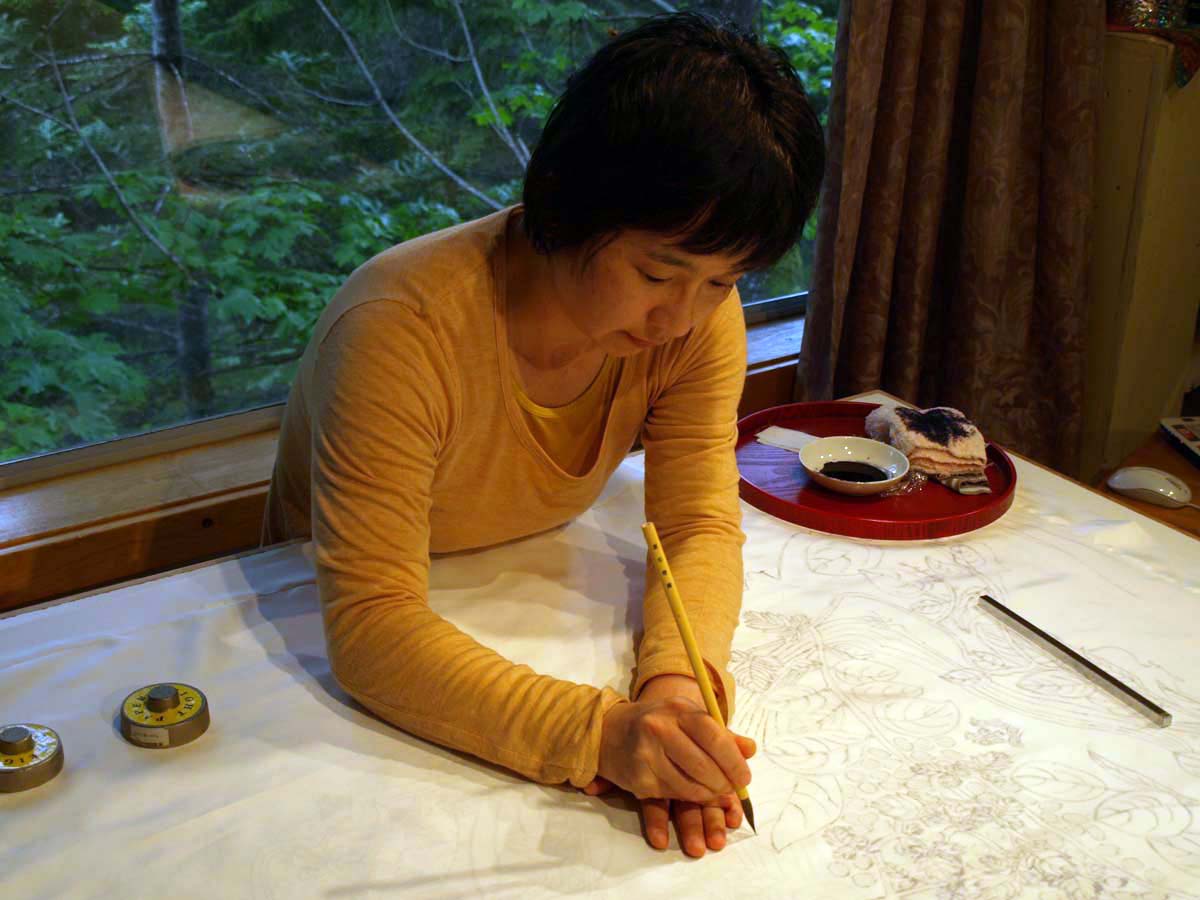 (Yuzen dyeing process 2→ tracing the sketch on the silk with the liquid extracted from spider-wort flower . ) ↑
Tracing the sketch was somewhat meditative.  I didn't need to think; I just traced the design. While I was tracing the map, I started to understand the shape of the mountain, rivers, roads … next to my house.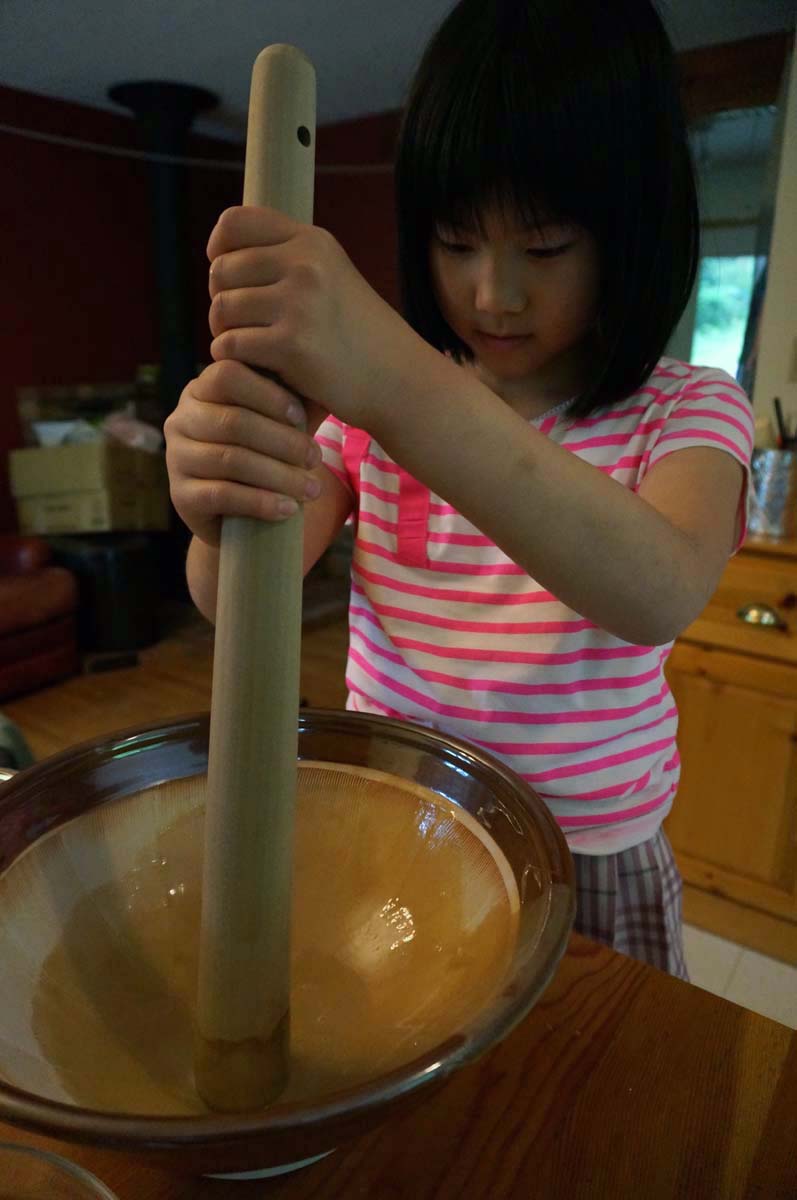 (Yuzen dyeing process 3→ making rice glue resist) ↑↑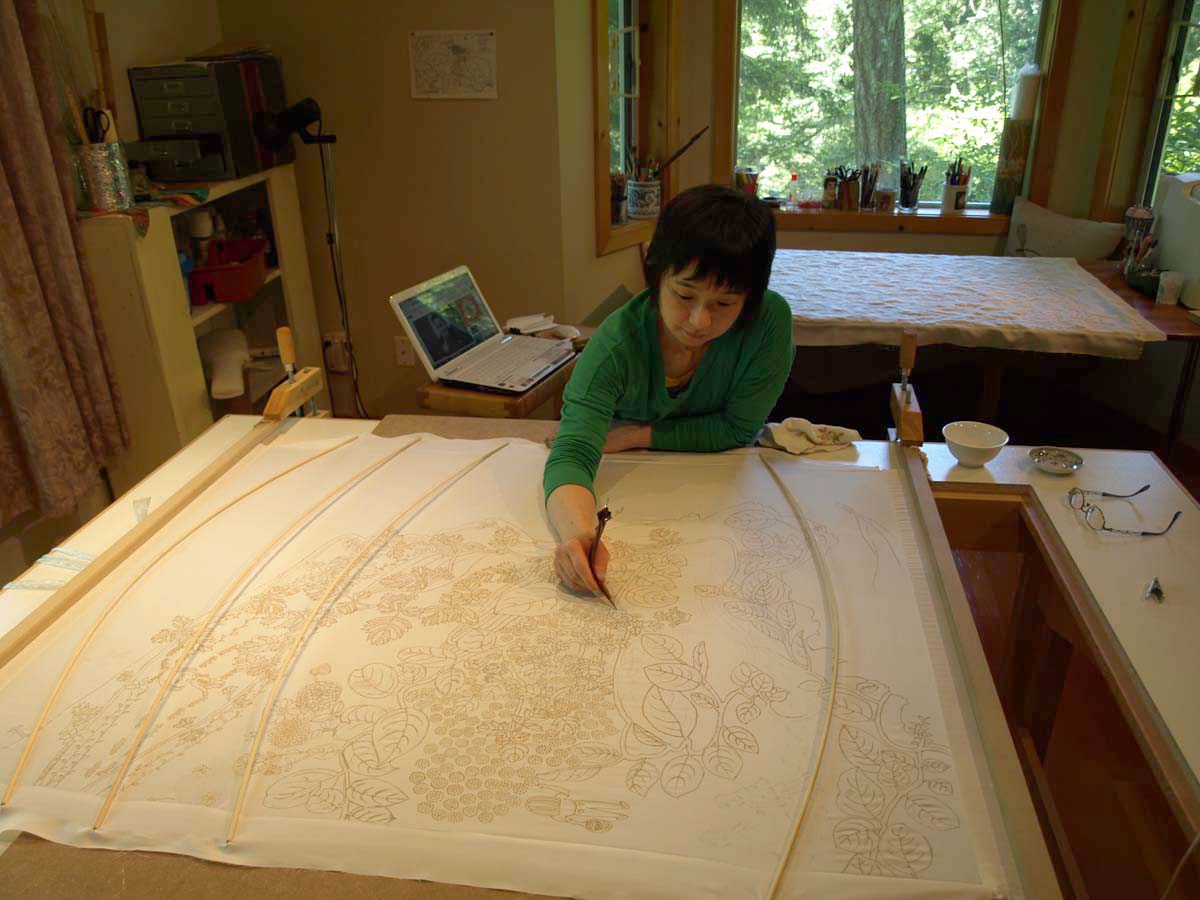 (Yuzen dyeing process 4→ putting rice glue resist on the silk using a traditional tool.)  ↑
After tracing the design, I traced the same outlines again with rice glue resist. This time I felt as if I was "walking" into the mountain: I was totally committed to create the piece.↑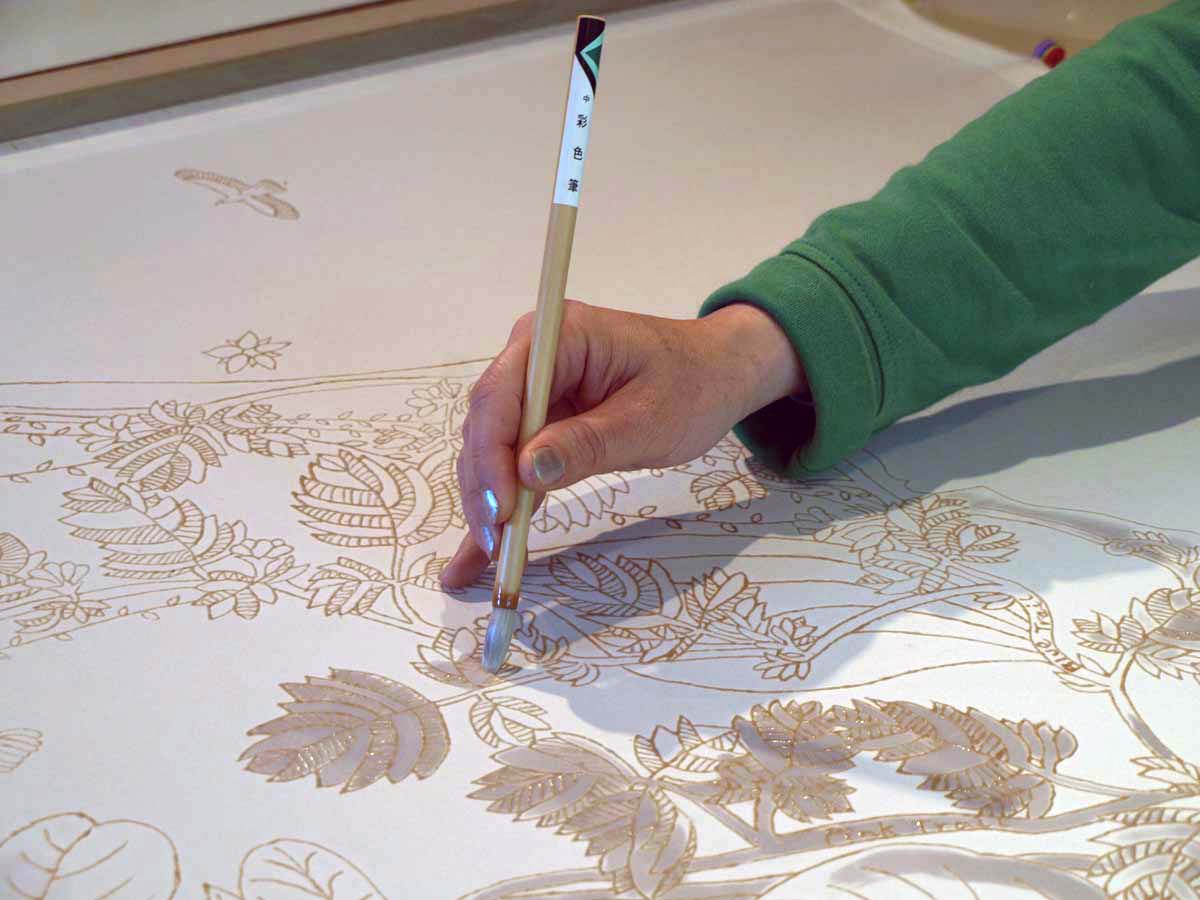 (Yuzen dyeing process 5→ base coating the patterns with traditional Japanese seaweed solution.) ↑
Transparent base coating solution will disappear when it is dry. This process looks like nothings, but is important for the coloring stage; I cannot skip it. I had to be patient; a life needs patience. ↑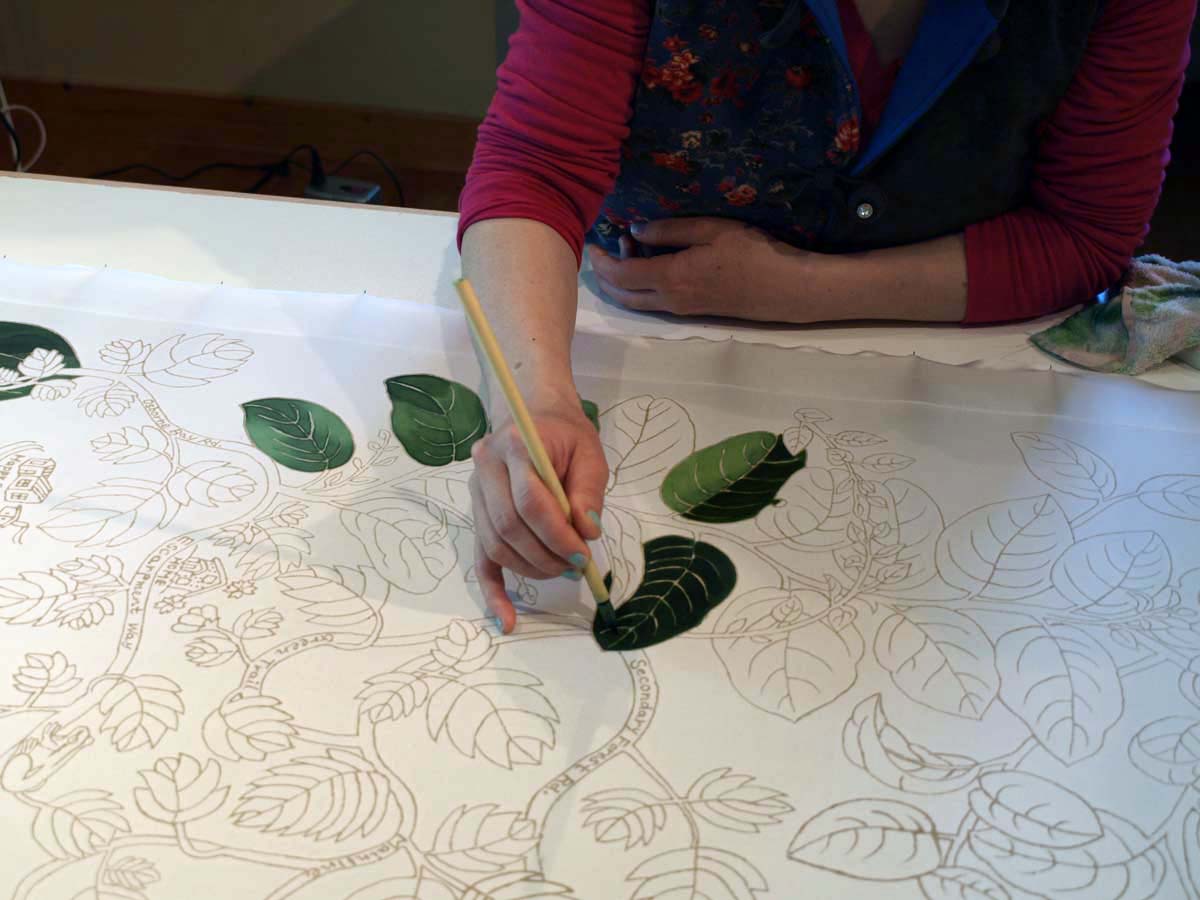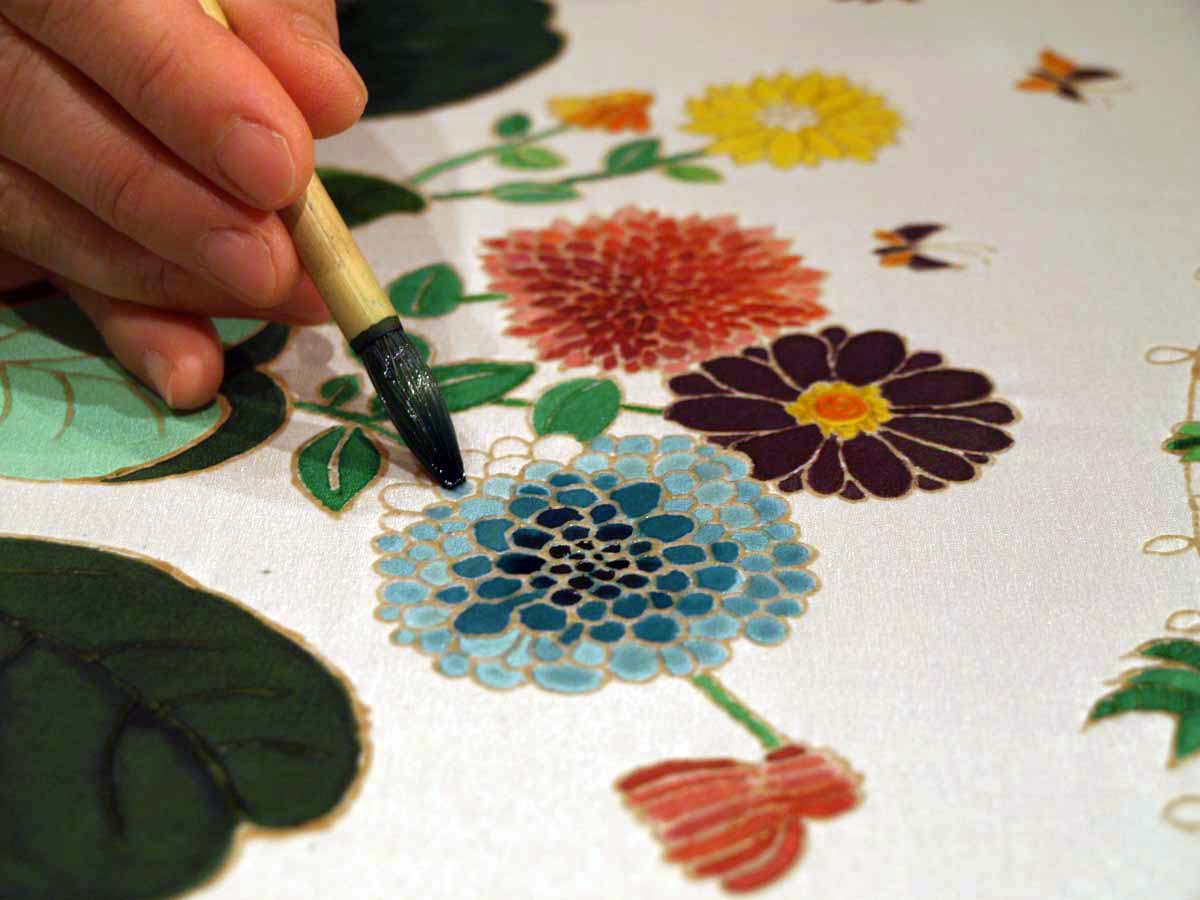 (Yuzen dyeing process 6→ putting colors on the silk) ↑
Coloring process is an accumulation of thinking, testing, deciding and adjusting colours.  Colours shook up my emotions and my mood went up and down.  ↑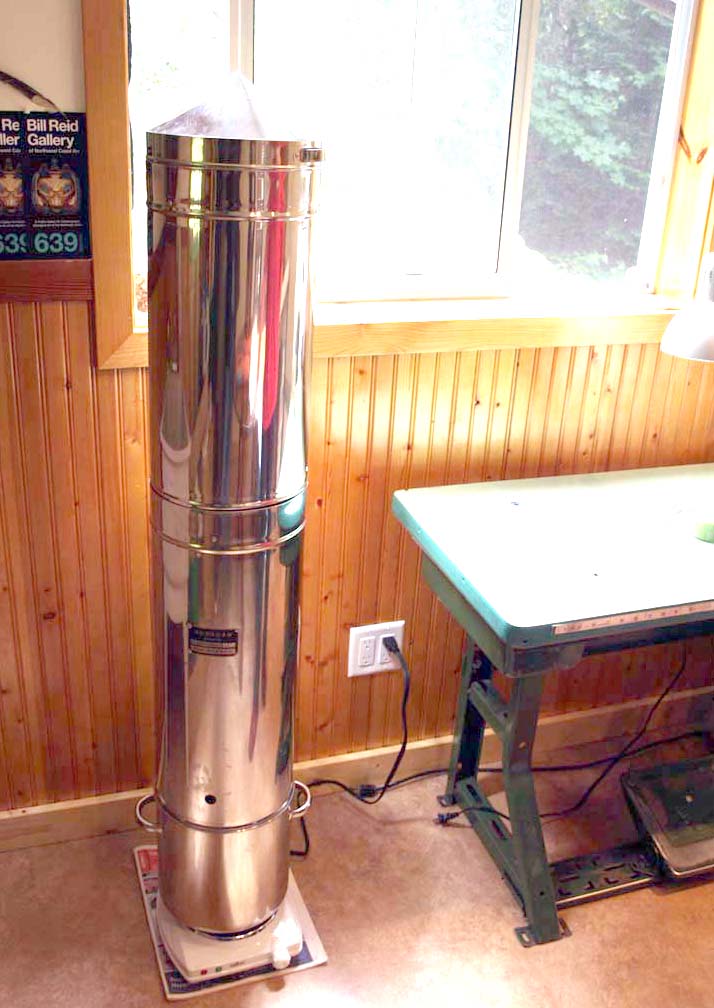 (Yuzen dyeing process 7→ steaming the silk to fix and brighten the colors) ↑
When the fabric is in the steamer I didn't think anything, just waiting for 45 minutes.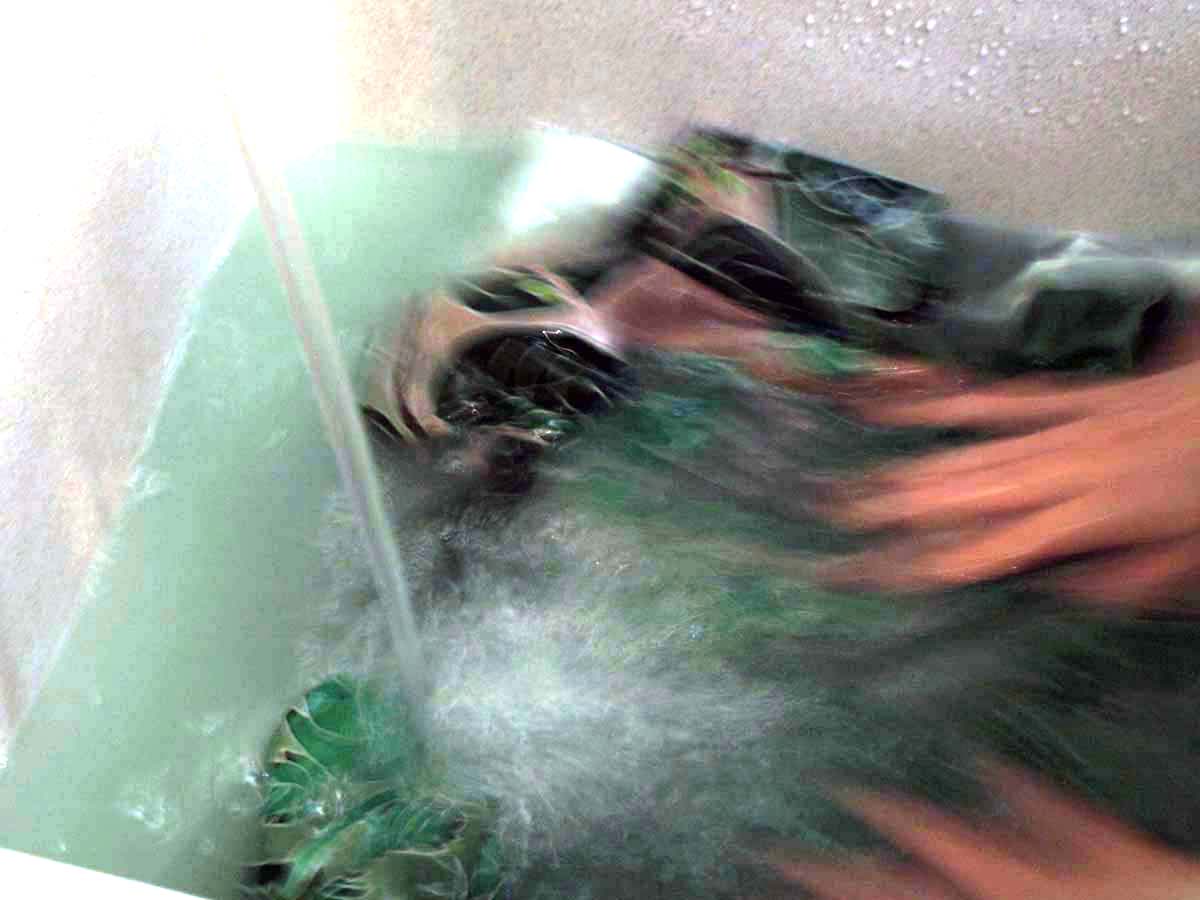 (Yuzen dyeing process 8→ washing to remove the rice glue resist  from the silk) ↑
When the rice glued resist is washed off, the white outlines and colours came out. This is the most exciting as well as scary moments throughout the whole creation process.   ↑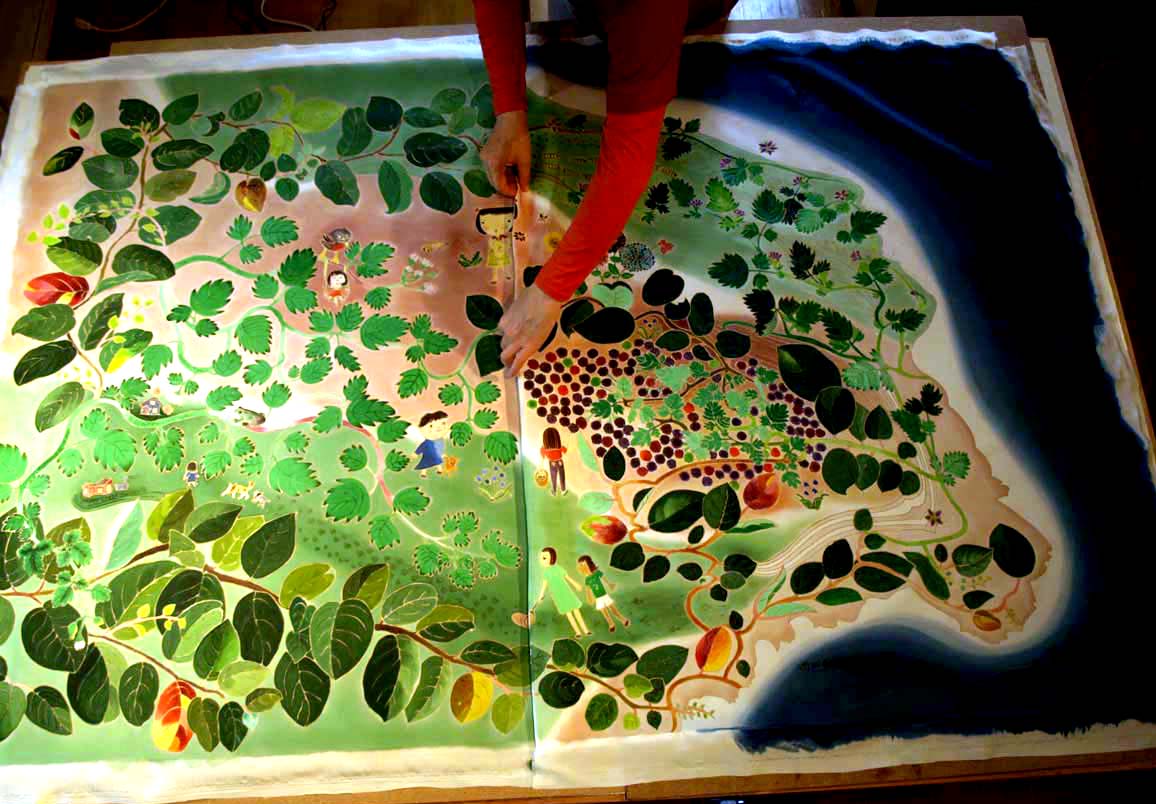 (Yuzen dyeing process 9→ finishing details with Japanese black ink and sewing) ↑
When I finished this piece, I felt fulfilled and happy. I still didn't know if Canada is my home. But I decided to continue my challenge living in a new place.  
Thank you for reading this! 
4 responses to "Yuzen dyeing 2 – Can Canada be my home?"