Japanese needle work, Sashiko 1 – how it was invented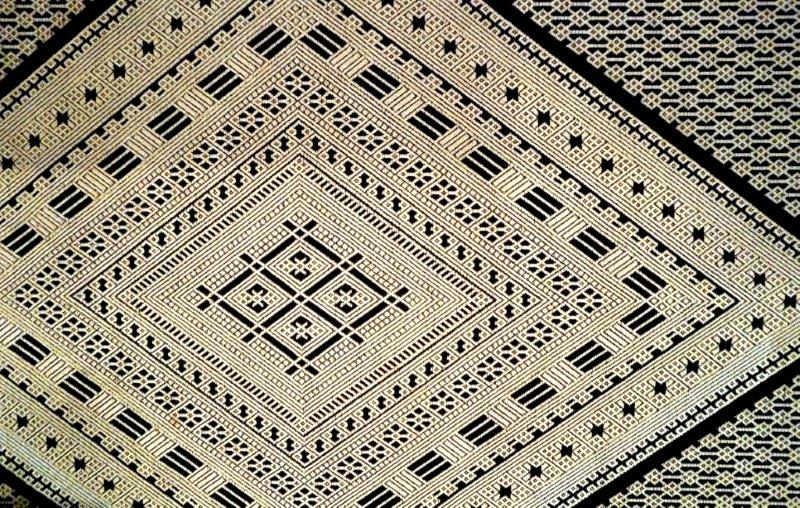 Tsugaru kogin-zashi tapestry, collection of Amuse Museum 
Clothing made from hemp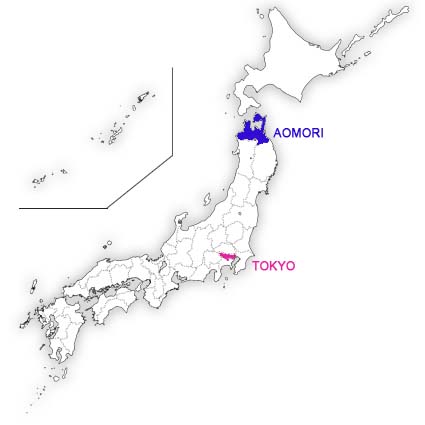 As linen was used to make garments old days in Europe, hemp was the oldest fiber worn from ancient times in Japan.  Hemp has good thermal conductivity and was suitable fiber for the hot weather in Japan except for the winter time.  Japan's feudal government started to grow a more heat-retaining fabric, cotton, in the 16th century, but also limited its use by regularly declaring the "sumptuary regulation", which limited the expenditure of citizens in apparel, food, furniture,etc.  Peasants in the Northern regions, where cotton didn't grow, had to wear hemp during all seasons up until 1891 when the railway between Tokyo and Aomori was opened  and mass-produced cotton fabrics became available for them.
Why fabrics were so precious
Before the railway was inaugurated the peasants' lives in the cold Northern regions, like today's Aomori prefecture, were not easy.  Clothing was always particularly insufficient because they had to make all the fabrics they needed by themselves; they grew hemp in the field, harvested, made threads, wove, dyed and sewed their coats, kimonos, underwear etc…They spent a lot of time making a roll of fabric for sewing a piece of kimono.  A folklorist, Chuzaburo Tanaka, wrote that a farmer in Aomori once told him, "it was much harder to dress than feed our children in this cold land.  Every time when I got pregnant I was worried about the clothing and bedding for my growing family."
Poor peasants invented sashiko
Women like this farmer never wasted fabrics, and they started to make sashiko in order to make their hand-made hemp more durable and warmer.  In "Oomin-zui" (the book that recorded people's lives in the Northern regions) written in 1788 by Sadahiko Hirano, there is a drawing of a peasant wearing an outer garment with sashiko stitches on the shoulders (see the picture below).  It was written that the original sashiko was stitched with white threads on a indigo dyed garment woven with hemp fiber.  The white threads at that time were ramie* because cotton threads were not available yet for the peasants.
*ramie is an Asian plant that has been used for making apparel for thousands of years.  Its touch resembles linen or silk.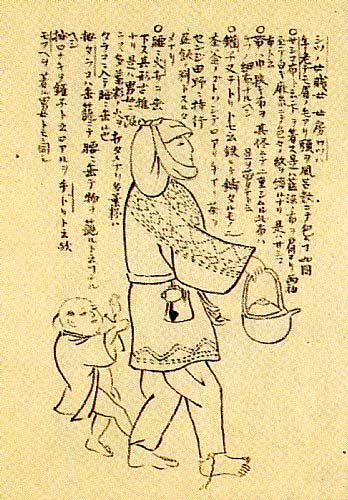 "Oomin-zui" written by Sadahiko Hirano in 1788 
White cotton threads stitched on indigo dyed hemp garments
In 1791 when Tsugaru Domain started to import cotton threads to produce fabrics themselves, the peasants started to obtain some white cotton threads for creating sashiko.   Cotton threads are shinier, warmer and smoother than hemp threads and motivated the female farmers to create more beautiful sashiko.  Sashiko reached its peak after the Meiji Restoration (1868-) when the peasants were liberated from the domination of the Tokugawa Shogunate (1603-1868).
In the next posting, I will write about the most know sashikos, Tsugaru kogin-zashi and Nanbu hishi-zashi. Both are very beautiful needle work techniques that are known as one of the finest crafts in Japan.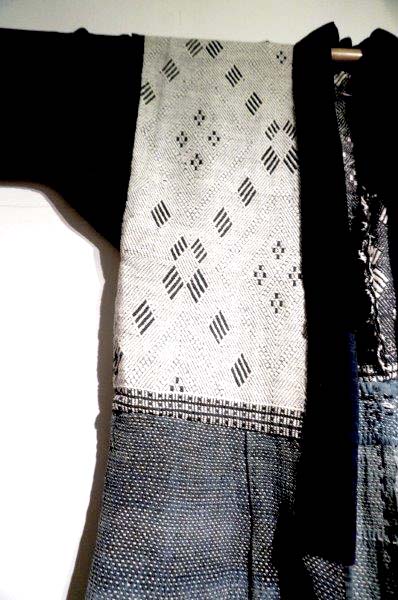 Tsugaru kogin-zashi outer garment (indigo dyed hemp and white cotton threads), Collection of Amuse Museum 
One response to "Japanese needle work, Sashiko 1 – how it was invented"