Canadian First Nations and Ainu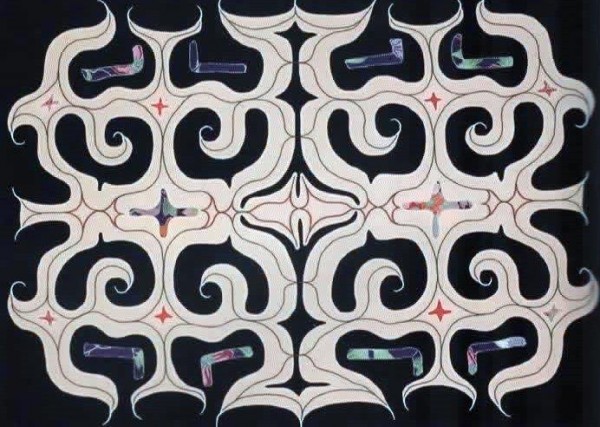 Ainu minzoku monyoushu by Sanae Ogawa
My friend, Robina, left for Japan to study at a local high school for three months. I hope she will have a great time there.
Since Robina was little, she has watched Japanese animations and read manga books. So even before learning any basic Japanese grammar, Robina knew many words and expressions. Also she pronounces Japanese very naturally and this impressed me.
Robina says that the reason why she can pronounce Japanese so well is probably because she has been exposed to some First Nation's languages: Robina's mother is a lady from Haida Gwaii and her father was an artist of Cowichan Tribes. Robina might be able to pronounce easily some Japanese sounds that don't exist in English but do in her parents' indigenous languages. Finding a similarity among different things is exciting.
Thinking of Canadian First Nations, I often recall one of the indigenous groups in Japan, Ainu. Ainu people's textiles are beautiful and their designs are more similar to Canadian First Nations' fabric pieces than Japanese kimonos. I don't have any Ainu fabric pieces, but I have an Ainu wood carving brooch that I bought in Hokkaido 17 years ago (see the picture below). The base of each wing was carved into a hinge and linked with the butterfly fuselage so that the wings move like a real butterfly.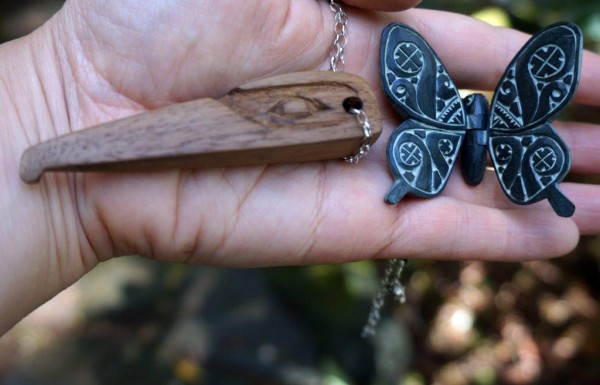 The other wooden piece is a rattle made by Robina's father. Wooden beads were sealed inside the hollow of the raven face; it makes comforting sounds. The raven is a vocal, communicative and friendly bird, and that was perhaps why the artist chose a raven as a rattle soothe babies. Both of these wooden pieces show that their artists had keen observation eyes on the nature.