Japanese needle works, Sashiko 2 – Tsugaru kogin-zashi
People today tend to dress up for parties and chose simple wear for working.  But a folklorist, Kunio Yanagida (1875-1962) found that the peasants' working clothes were brighter and more stylish than their festive dresses in the Northern regions, like Aomori.  When I look at the old sashiko working kimonos made in Aomori I can agree with him.  Today I will write about Tsugaru Kogin-zashi, one of two well known sashikos in Aomori,  and explain how the people in Aomori appreciated their hand-made working clothes.
Tsugaru is a name of region in the Western side of Aomori prefecture.  It is known as one of the heaviest snow areas where meltwater grows good rice.  Peasants in Tsugaru were dominated by the Lord of the Castle Hirosaki during the Edo period (1603-1868), and he severely controlled details of what they wore.
"Kogin" meant "hemp working clothes" in old Japanese.  "Zashi" and "sashi" are from a verb "sasu" that means "stitch".  During the Edo Period, the fiber that the peasants could wear was hemp, but they were allowed to use cotton threads to stitch sashiko on their garments from around the beginning of the 19th century and sashiko started to be develop well in Tsugaru region.  The  Sashiko (functional needle work) made in Tsugaru is called Kogin-zashi  and known as one of the fine crafts in Japan.
Skilled workers' hands made the finest needle work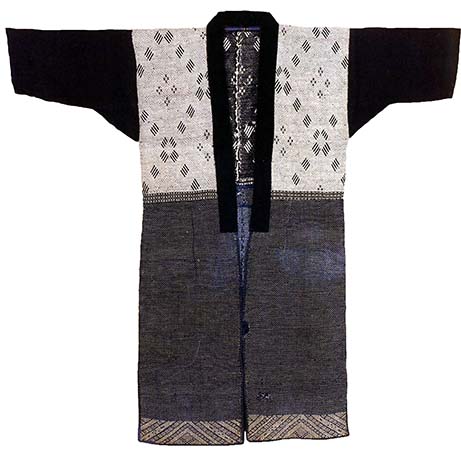 Tsugaru kogin-zashi working clothes, collection of Amuse museum 
For the women in Tsugaru, kogin-zashi was an important household skill because all men and women wore kogin-zashi working clothes.  Many women learned sashiko since their infancy and mastered the skill before they got married.  Nayo Fukushi, a lady born and lived in Tsugaru said, "I started to learn kogin-zashi from my sister when I was five years old, and mastered the easiest pattern, "mameko (a bean)".  We made it as a part of children's play.  When I was 10, I enjoyed making it with my friends.  I already could stitch a piece of kimono when I was 12. When I was 14 I was a full fledged sewer and always motivated to improve my skill and to design the most beautiful kogin-zashi piece.  After I got married I sat and made sashiko every night after finishing all my works."  Women in Aomori followed the custom that they bring several pieces of kogin-zashi kimono to the family, to whom they got married.  Hard-working female farmers like Nayo were very proud of completing beautiful kogin-zashi garments for themselves and their family.  Since the people there wore working clothes most of the time women tried to stitch the best sashiko on their every day wears.
Creative ideas of maintaining and enhancing the beauty of stitched kimonos
Peasants in Tsugaru exercised their ingenuity in maintaining their kogin-zashi working clothes.  One of the creative ideas was their design; most of their kogin-zashi kimonos have sashiko stitches on only the upper bodice.  It is because the sleeves and the bottom part were damaged faster being regularly soaked in the watery rice filed and were occasionally replaced.  Another creative idea was re-dyeing the working clothes; people in Tsugaru dyed their work clothes with dark indigo*.  They loved their deep indigo dyed garments that looked really sharp with the snow scene there.  They re-dyed their kogin-zashi garments when they got dirty.  The hemp kimonos were dyed again and again during the long lives, and gradually turned into blue-black.  Indigo dyed hemp became shinier when it was used well and washed many times, and became more beautiful and comfortable to wear.  Elder women whose garments became darker welcomed the shiny texture on their working clothes saying, their garments were "covered with flowers" (see the texture made by hemp and cotton sashiko stitches in the photo below.)
After kogin-zashi working kimonos were worn our, they even recycled their working dresses into a long Sunday vest sewing two upper bodices together.  Also when the sashiko stitches were damaged they put the second kogin-zashi stitches over the first ones in order to rejuvenate the patterns.
In my next posting I will write more about neat looking working clothes in Aomori.  It is called hishi-zashi developed in Nanbu region.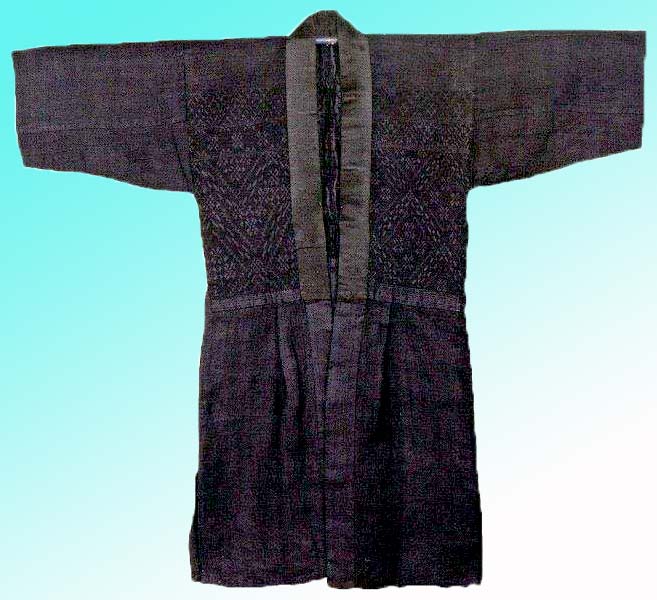 Kogin-zashi kimono dyed multiple times.  During old times in Japan people dyed garments with indigo because of its insect repellent advantages.  Indigo also makes hemp fabric durable by bridging its seams. Collection of Amuse museum 
photo credit: Ari Helminen via photopin cc